Posted by
Adam

| Posted in chocolate, cookies | Posted on Tuesday, August 19, 2008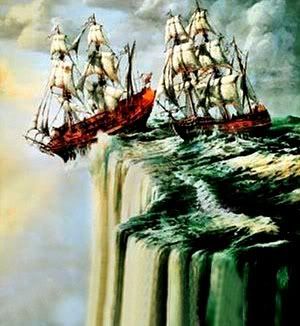 Part of reason I started a blog is to get out of my "
comfort zone
" when it comes to baking and cooking. Without it, I would never of tried something called "
Haupia
" or a
Blueberry Cake
from scratch... or a
grilled tart
. It's like a
Christopher Columbus
of cooking, going out into the unknown... except without a ship full of sweaty, salty seadogs, and sailing off the edge of the world.
But... there is always a time and place for Classics. Just like The Beatles, Elvis, The Godfather, I Love Lucy, Chevy Corvette's... some things just withstand the test of time. They are that old friend that says "
Dude, I can't let you down... I started it all
"
Chocolate Chip Cookies
do that. While you may have a unique favorite dessert, or definitely a more complicated one... who in their right mind does not like chocolate chip cookies? There are two camps of people...
people who like chocolate chip, and people who love them
. There are no haters. Chocolate Chip Cookie should run for president. He/She would unite the land. I'd vote for that. Make cookie, not war.
So a bunch of my good looking girl friends came up this weekend to see
NYC
(
Veggie Girl
's proclaimed city of choice). They wanted something classic for the long car ride back home. Here's a failsafe cookie recipe.
Chocolate Chip Cookies
Recipe by Adam - makes 18-24

-1 1/3 cups whole wheat pastry flour

-1 cup packed brown sugar
-1/4 tsp baking soda

-1/2 tsp cinnamon

-1/4 tsp salt

-1 egg, slightly beaten
-1/4 cup butter, melted

-2 tsp vanilla extract

-4 oz of both milk and dark chocolate chips or chopped up chocolate


Preheat your oven to 350*. Get two cookie sheets ready, ungreased. The cookies probably won't stick, so don't worry.


In a medium sized bowl, mix the flour, sugar, baking soda, cinnamon, and salt, until well incorporated. Just use a wooden spoon, it's a old school and a good workout.


In a small cup or bowl, stir the melted butter, egg, and vanilla extract together. Add this to the dry ingredients and stir until the dough comes together. It should smell delicious and become brown and shiny. If there are some crumbs still on the bottom or the dough doesn't want to come together, just keep at it. Eventually it will form a tough, sticky like dough. Fold the chocolate chips into the dough until they are evenly distributed.


Using two teaspoons, place heaping doughfuls onto the pans, leaving some space for them to spread out. Bake for 8-14 mins, or until the edges lightly brown and the cookies are firm to the touch. Don't overbake these... they kind of firm up as they cool. Cool on the pans for a minute, and then immediately place on a cooling rack until completely cool... if you can wait that long.
Well, this is going to be a shorter than usual Adam post. I'm going to try and update this site a bit, add some more of my cool new friends blogs, and maybe change the layout. I feel there's a lot of wasted space. Does anyone have any reccomendations for cool widgets or blog templates? I would take last place in the computer user olympics, so any help would be great. Drop me an email. I'll post about my NYC trip later this week once the girls get me some pictures, and I have to take care of some unfinished award business I've been putting off. Oh, and don't worry,
FFF
will be back a la usual. I've only just begun to talk health and fitness. Let me know what direction you want it steered in :)
Sailing away